Get the Recipe to a 6 Figure Online Wellness Program

 
(without the overwhelm & huge price tag)
Building a

Profitable Online Wellness Business

 Just Got Easier!
You are just seconds away from the essential training, advice & support you need to build, launch & grow your own 6 figure + Virtual Program & Practice... 
OMG! Show me, show me!
The World of Online Business is Your Oyster... 
Have you ever considered that it's the Health & Wellness Experts who use Technology to

 

Leverage their Time

,

 

Working Smarter not Harder

 

who are Happiest? And their Clients & Patients are perhaps Enjoying

 

Better Experiences

 

and

 

More Powerful Transformations?
 A Burnt Out Health Expert is No Good to Anyone!
Are You Like So Many of the Practitioners, Coaches & Therapists we Speak with - does your business right now feel heavy?
Are You BURNING OUT Seeing Back to Back Clients,Trading Your Precious Time for Money & Struggling to have the Impact You Desire?
And Did you Realise that Our Clients & Patients Want Access to Us in a Way that Fits in with their BUSY Live? That They Want Results & Support That Goes Beyond A Single Session at a Time?
Imagine having an Online Health & Wellness Business that allowed you to help more clients & earn more money...

without burning out?
A business that allowed you to deliver better client outcomes, work from anywhere, serve more of your favourite people and enjoy consistently high revenue months!
Imagine...
Feeling calm, balanced and clear-headed in your business
Earning an uncapped income working only with your favourite clients
Enjoying more time freedom and flexibility with your work schedule
A schedule that has space for your own self care (so you can actually practice what you preach!)
Feeling deeply satisfied by working with your ideal clients at a deeper level, knowing you are offering them true transformation!
What if All It Took Was a Simple Tweak to Your Business Model?
You Right Now:
❌ Trying your best to cram as much as you can into a consult, never feeling like there's enough time to share everything..
❌ Frustrated with clients who vanish after 1-2 consults,  or who don't stick to their proto col between sessions (argh!)
❌ Drowning in emails and messages from clients between consults, feeling like you need boundaries the size of castle walls!
❌ Burning Out with your patient load and feeling trapped with an income ceiling... 
❌ Feeling Lost because no matter how many posts you do, you just aren't attracting enough clients
You with a Virtual Program:
✔️ Clear on your niche and the big problem they have (that they are willing to invest in solving)
✔️ An Ideal Client Magnet easily attracting your perfect-fit patients who beg to work with you in your program, membership or course!
✔️ The owner of a powerful Signature Program & Suite of Offers earning you higher fees and passive income while you sleep!
✔️ Earning more than ever before, while working less hours in your business
✔️ Time & Location Freedom working from anywhere in the world, free to take holidays & travel without losing income!
YOU MIGHT BE THINKING, "SURE, THIS ALL SOUNDS GREAT, BUT HOW? HOW CAN I CREATE THIS?"
... Simple! We have the proven Roadmap and the Lived Experience of helping 3000+ wellness experts just like you! 
Everything You Need to Build, Launch & Grow a Profitable Online Wellness Program & Virtual Business, WITH all the coaching, support, templates and swipe files you could possibly need.
Create a Virtual Wellness Business that Serves More of Your Favourite Clients - without sacrificing your own wellbeing or your TIME.
"BEST THING I EVER DID FOR MY BUSINESS!"
I've gone from wanting to quit my struggling naturopathy clinic to becoming the owner of a successful virtual business, earning $30k months and working far less than ever before! I now have a growing team of Practitioners & Virtual Assistants supporting me and the systems to make everything flow smoothly. I feel like I'm just getting started...
Hayley & Kylie are still my coaches and I love working with them!
SARAH MCLACHLAN
THE PERIMENOPAUSE NATUROPATH
The Virtual Practitioner Academy
Coaching & Training with Your Ever-Growing Library of Courses, Templates & Trainings that Makes You A Successful Online Health & Wellness Expert with a 6 Figure Brand & Business You Love!
Plan & Create Your Online Brand & Business with a Suite of Offers that your ideal client scrambles to buy, all designed to be delivered in a way that leverages your time, your income and the impact you came here to have.
Grow an Audience of Dream-Fit Patients & Clients with content that speaks so clearly to their struggles, their worries, their hopes and dreams - and find them loyal and engaged seeing you as their expert. 
Launch Your Programs & Offers with easy to rinse and repeat campaigns and know exactly what to improve on each time. 

Automate Your Marketing

so that new leads drip in while you sleep, or read, or lay on the beach

 

and you know your team are taking care of all that draining admin for you!


Grab your spot inside the Academy Now!
Join us as an Academy Member for $99 USD 
And YES, we have an option to pay in Australian Dollars too!
HERE'S WHAT'S INSIDE:
You're going to
love
 the Academy
MORE THAN 200 TRAINING VIDEOS, LESSONS & WORKBOOKS
While you are a member of TVPA, you have on demand access to every single one of our training courses, programs and lessons... and the training library is always growing! 
MINDSET COACHING TO REWIRE YOUR BEAUTIFUL BRAIN FOR SUCCESS
A growing library of Mindset Masterclasses & Live Mindset Coaching Calls to help you keep your brain in the game while you transform into a virtual wellness entrepreneur!
REGULAR LIVE COACHING CALLS, HOT SEATS + Q&A 
LIVESTREAMS
To give you the support & accountability you need to implement all this training, you have access to Hayley, Kylie & our coaches multiple times a month.
LIVE REVIEWS ON MARKETING MATERIALS
Experience an expert reviewing marketing materials live on a call (maybe it's even your materials being reviewed!) to learn how to create even better design & copy in your business.
DONE FOR YOU TEMPLATES GALORE
If you know us, you know we LOVE giving you all the templates, scripts, fill-the-blanks emails  & swipe files you need to be able to implement faster - plug & play into your own business! We also give you fresh new monthly marketing content templates to help you attract more clients on socials!
A THRIVING MEMBER COMMUNITY
Access to our vibrant online community (aka "The Brain's Trust") where you can seek support & advice from other wellness experts from around the world. Imagine the collaboration opportunities!
"Creating a signature online program has allowed me to work in a way where I now don't have burnout! I made $85k in the first year from my program all while having time to complete my Master's Degree, buy a house and get married!"
LUANNE HOPKINSON, NUTRITIONIST
HAPPY WITHOUT HISTAMINE METHOD & HWH KICKSTART COURSE
"I have halved the amount of time that I work and have doubled my income! I absolutely love my online program & courses for women with Thyroid & Hashimoto's"
TESSA RICKARD, NUTRITIONIST
THE THRIVE METHOD 
"Hayley really understands the health and wellbeing industry & her marketing and coaching expertise has helped me so much. The program is well thought out, easy to follow and implement and I started seeing results after only 1 month!! Now my 'Nourished Gut Program' is launched and filling with clients!"
KARLY RAVEN, NATUROPATH
The Nourished Gut Program & Podcast
We know what it takes to build a solid 6-figure + online wellness business. And we know how to lovingly squeeze the best out of the practitioners and coaches we mentor.
Seriously, with the right strategy & coaching, your success is inevitable!
So why not invest in your business and your own personal growth through us, and go create something amazing?
FOR JUST $99 A MONTH, YOU WILL HAVE ACCESS TO EVERYTHING YOU NEED TO THRIVE IN ONLINE BUSINESS .
No more feeling stuck, seeing other wellness practitioners and coaches living YOUR dream life. This is your time.
And just who will be coaching & teaching you?


Me! I'm Hayley Stathis

EXPERT SIGNATURE OFFER CREATOR, BUSINESS COACH, MARKETING MAVEN, MUM TO 2 BOYS, PILATES ADDICT AND BLUEBERRY SMOOTHIE LOVER.
After a 10 year career in Marketing & PR – I dragged my fried adrenals back to study Nutrition & Naturopathic Medicine.
In my practice I was forever perfecting my systems in clinic and online, launching packages, group programs, and online courses...
I finally found a way to work 3 days a week online, earn multi 6 figures a year and my patients had never been happier!
Since 2017 I've been helping other practitioners create their dream online practice.
And Me! I'm Kylie Russell

DIGITAL MARKETING EXPERT, BUSINESS COACH, SOFTWARE JUNKIE, MUM TO 4 (AND GIGI TO 2), SYSTEMS NUT AND HUMAN DESIGN LOVER.


Let's Talk Details
The Inclusions
ON DEMAND TRAINING
ALL THE TRAINING YOU NEED TO PLAN, BUILD & LAUNCH YOUR VIRTUAL PROGRAM BUSINESS!
A core library of every single one of our training courses, marketing programs and masterclasses.
Included but not limited to Nail Your Niche Now; 6-Figure Signature Program Project; Magnetic Instagram Method; Facebook Group Lead System; Email List Growth Plan; Wellness Webinar Launch Method; Healthy FB & Insta Ads Mastery; Wellness Website & Funnel Formula; Sales Page Success; Coaching Groups & More!
More than 200 lessons & step by step trainings that are proven to build your 6-figure program & a solid foundation to your virtual practice.
VALUED AT $3000
LIVE COACHING CALLS
REGULAR LIVE COACHING CALLS
Regular Live Coaching Calls throughout every month designed to give you the support, mentoring & accountability you need to implement the training, as well as experience the benefits of a group coaching experience. 
Several times a month, you have the opportunity to be on a Hot Seat for live coaching with one of our expert coaches & mentors. And, every call you have the amazing bonus of learning from witnessing others receive coaching.
VALUED AT $497
MINDSET COACHING
MINDSET MASTERCLASSES
A growing library of Mindset Masterclasses to help you keep your brain in the game while you transform into a virtual wellness entrepreneur! Each masterclass includes a workbook to help you learn & implement the teachings, as well as exercises to include in your day to embody the growth. Topics include: Overcoming Imposter Syndrome; Releasing Visibility Fears; Aligned Goal Setting; Money Mindset and More!
Tap into The Woo Vault for even more mindset support with Guided Meditations, Hypnosis Audios, Subconscious Reprogramming Exercises and more!
VALUED AT $197
REVIEWS & FEEDBACK
MONTHLY LIVE REVIEW CALLS
Once a month we host a dedicated Review & Feedback Call where we will review materials like Sales Pages, Webinars, Lead Magnets, Website Copy, Facebook Ads and more live on a call with you and other members.
VALUED AT $297
TEMPLATES GALORE
TEMPLATES, SCRIPTS, SWIPE FILES & DONE FOR YOU MATERIALS
Imagine having a library of written for you sales & marketing materials designed specifically for health & wellness programs... so you can easily fill the blanks and fast track everything! Think lead magnet templates, webinar slide decks, client agreements, nurture and sales emails, social media posts, Ads images and copy.... and more!
VALUED AT $497
MINDSET MAGIC
MONTHLY MINDSET COACHING SESSIONS
Once a month we host a mindset coaching call where we take you through various experiences, exercises and processes to clear blocks, remove limiting beliefs and reprogram your mind for success!

We use a combination of NLP, Hypnosis, Mindshifting and other positive psychology techniques.

These calls are our secret sauce to helping you move past the things that hold so many wellness entrepreneurs back - and will be the magic that makes your virtual practice dreams a reality!


VALUED AT $150
EXCLUSIVE COMMUNITY
COMMUNITY SUPPORT & ACCOUNTABILITY
As the organic cherry on top of The Virtual Practitioner Academy, you will have access to our amazing community for even more support & accountability. With dedicated threads to get support from your peers, enjoy livestreams from our coaches, share & celebrate wins, the TVPA Community will become your favourite place to hang out on the internet!
VALUED AT... priceless!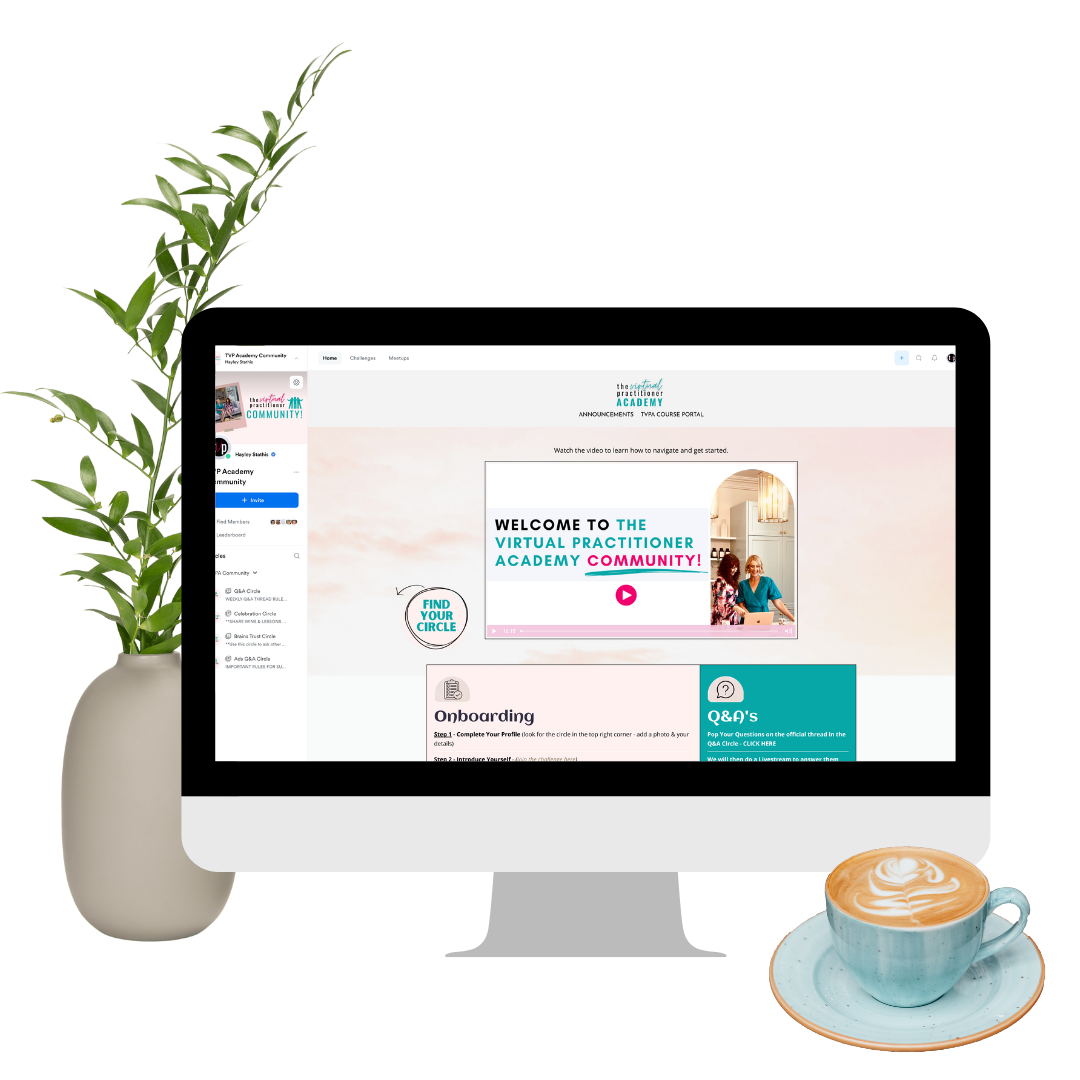 DONE FOR YOU CONTENT
MONTHLY WHITE LABEL MARKETING CONTENT
Every month we drop a fresh batch of done for you, white label marketing content that you can use to keep up your content game. You get a written for you, fill the blanks blog post, email newsletter, video script, canva social media templates, IG Reel / Tik Tok video ideas & scripts and a new gorgeous canva template you can use for a lead magnet or with clients in your program! All easily adapted to any niche so you can customise it for your business in just a flew clicks of the keyboard.

VALUED AT $97


Just in Case You Fear the Tech... don't! 


Because we've got you, Boo!
BONUS 1 --> Anyone say "easy to edit, gorgeous, done for you website template"? We did!! Get your website, funnels, sales pages etc all set up fast with our done for you website solution (and you have 4 designs to choose from). Yep - easily added in to your existing website. Totally optional, but worth checking out!
BONUS 2 --> 

Your very own IT Department?

Sure! Our

dedicated Tech Support VA is on hand

in the Community to answer any tech questions you have (which should be really minimal, because we give you all the over-the-shoulder training you'll need)... but hey! It's so nice to know she's there if you need her. 
BONUS 3 --> High Vibes. Hang out with us long enough and you can't help feel more positive, more unstoppable and more CERTAIN that your dream business is possible. 
The Virtual Practitioner Academy gets you from burnt out to abundant in record time. This is your ticket
out of overwhelm and into easy-breezy

.


Let's get you started!
Not only will you get instant access to all the course materials, masterclasses, coaching calls and community but you'll also get any future updates as we add them! You are a couple of clicks away from finally having the support you've been craving while you build your dream business!
Want a Sneak Peek Inside The Academy?
Well, alrighty then! Take a look at this walkthrough video where we show you just how much amazing content is included in the training portal. Plus, you get access to our thriving community and all the regular Hot Seat Coaching Calls, Q&A Livestreams and Mindset Calls!
If I am just new to my business/new to clinic/new to coaching, is this still a good fit for me?
What if i join and it's not for me?
I don't know my niche, am I ready for this?
Is this going to be hard work?
do I have to give up my clinical or 1:1 practice?
is this just for beginners?
Is this the same as Package & Prosper mastermind or The Prosperous Practitioner Academy - I am confused??
How much time will this take? It sounds overwhelming.
When are the coaching calls? What are they like?
How long do I have access to the Academy for?
What happens after I click to join?
Can I pay in Australian Dollars?
JOIN THE VIRTUAL PRACTITIONER ACADEMY NOW

 
Everything you need to build, launch and grow your profitable wellness program and virtual business. You know, so you can look after your own wellbeing!
Every single one of our courses, training programs and masterclasses
Access to two expert coaches - Hayley & Kylie!
Regular group coaching calls and the opportunity for a hot seat
All the templates, scripts, swipe files and done for you materials you could want
Monthly done for you content templates to use on your socials & website to attract perfect-fit clients
A community of inspiring, supportive & smart peers to make this business thing super fun!
Month to Month
$99/m
FOUNDING MEMBER RATE
Pay Annual & Save
$990/YR
FOUNDING MEMBER RATE
Aw Snap! TVPA is Currently Closed!
If you'd like to be first to hear when we open the doors again in early 2024, simply email us at h[email protected] with the subject: TVPA Waitlist!
This is a Training & Coaching Membership
We have created this as a monthly membership program, so that we could make it as affordable as possible for those practitioners and coaches who are driven, dedicated & committed enough to create an amazing business. Our intention is that as you grow, so does this membership - so that we are always providing you with what you need in the stage of business you are in.
So grab this now, commit to showing up on calls, participate in the community and work your way through the course portal and experience what it's like to be a Virtual Practitioner. 
But if you're not 100% satisfied with the course, the templates, or the coaching then you can simply send us an email at [email protected] and cancel your membership (we bet you won't want to when you see how amazing this is!!)
OUR LAST PIECE OF ADVICE
You have a choice right now. There are so many who read everything on a page like this, get to this part, and then do nothing.
And guess what happens in their business? Yep NOTHING!
This just becomes more information that they stick in their head as a concept, collecting digital dust.
And so the real question we have to ask you is the question that separates the unsuccessful wellness business owners from the successful ones - are you going to be the type of person who continues consuming free trainings or downloading freebies hoping you'll discover some tidbit that's going to magically transform your business, or are you going to be the type of wellness entrepreneur who takes action now on something that you already know works? 

We have removed pretty much all the barriers to you getting our support that we possibly could. This is now a no brainer, right? The only missing piece of the equation is YOU and the effort you are prepared to bring. 
      
If you're ready.... then we are ready and waiting for you inside The Virtual Practitioner Academy. Scroll back up the page a bit and click to join us!